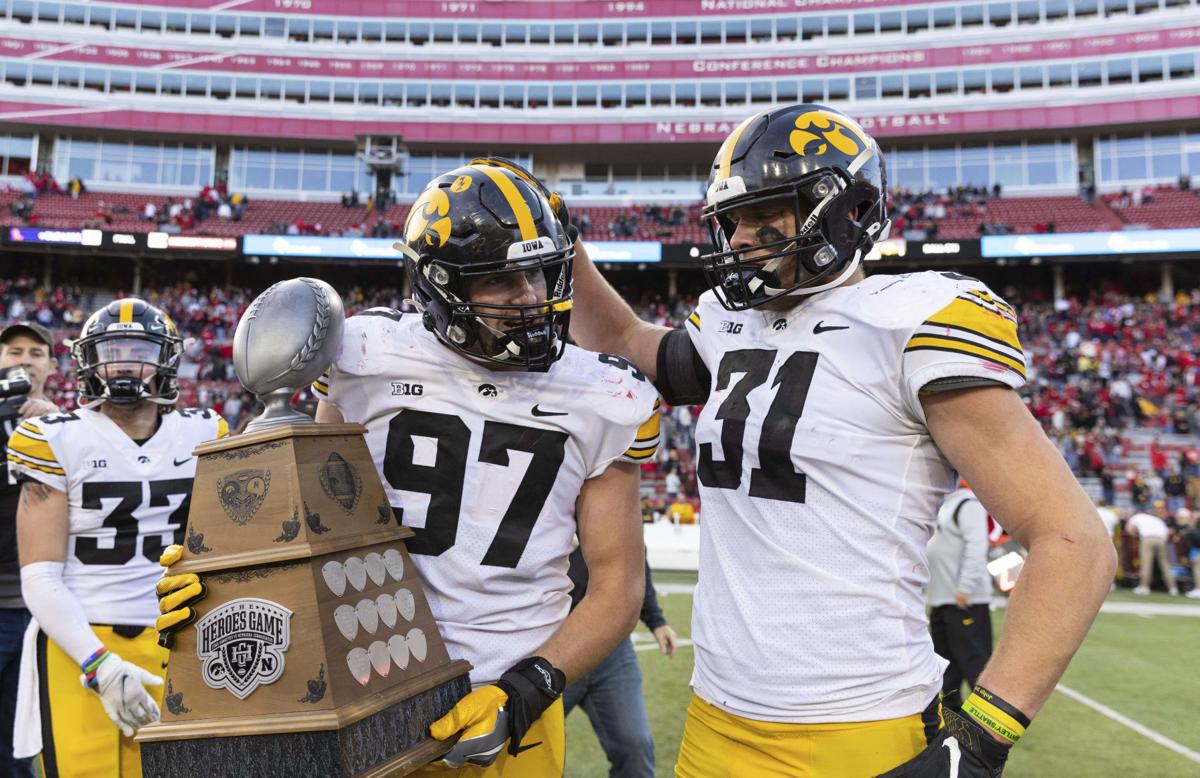 Jack Campbell's nose for the football, Keagan Johnson's potential, Spencer Petras' return and more are all part of today's Hawkeye 10@10.
Delivered each weekday at 10 a.m. during game week at hawkmania.com, the Hawkeye 10@10 serves up your daily dose of Iowa football news and notes.
Here is today's Hawkeye 10@10:
1. Iowa linebacker Jack Campbell has the attention of Michigan coach Jim Harbaugh.
"He has a nose football and that's probably the best thing you can say about any linebacker,'' Harbaugh said Sunday. "He's somebody who shows up where the ball is, repeatedly.''
Campbell recorded his fourth double-digit tackle performance of the season in Iowa's 28-21 win at Nebraska on Friday. Campbell ended up with 16 tackles in the win, giving him 124 for the season.
2. Spencer Petras finished off the only touchdown drive the Iowa offense managed Friday at Nebraska with a 2-yard run, capping off a 6-play, 76-yard drive that included a 55-yard run by Tyler Goodson.
"It's funny. T-Good takes down there, then Gavin (Williams) had some physical runs, then I get the score,'' Petras said. "It feels like I'm cheating those guys. But no, it was good. It was good to get in the end zone.''
3. Iowa coach Kirk Ferentz doesn't plan to announce who will start at quarterback for Iowa in Saturday's 7 p.m. Big Ten Championship Game against Michigan until Tuesday.
But, he found plenty to like with the way Spencer Petras competed when given the chance in relief of Alex Padilla on Friday at Nebraska.
"Nobody likes to be on second team,'' Ferentz said. "At least good second teamers don't want to be second team. They want to be first team, and I'm sure Spencer felt that way, but you would have never known it from the way he practiced.''
4. Nebraska cornerback Cam Taylor-Britt walked away from Friday's game impressed with Iowa freshman Keagan Johnson.
"He is an alright player, I will say that. I told him after the game those catches were not going on me but maybe another defensive back. He is going to be a great player though for sure,'' Taylor-Britt said.
Johnson caught one pass for an 11-yard gain against his home state school.
"You know, I hate that he went to Iowa,'' Taylor-Britt said. "He could have stayed home and been a great Nebraskan and carried on that legacy here, but he will be something special over there and I pray he does good."
5. Both Iowa and Michigan moved up in this week's Associated Press college football poll in advance of the Big Ten Championship Game.
The Hawkeyes rose to 15th in this week's poll while the Wolverines climbed four spots to second following a dominating win over Ohio State.
Michigan's ranking is its highest since 2016 when it peaked at No. 2 before losing 14-13 at Iowa.
6. A 15-point lead wasn't enough for Nebraska in the fourth quarter Friday for Nebraska as Iowa rallied for its seventh straight win in the Heroes Game.
Cornhuskers defensive lineman Ben Stille felt his team was in a good spot as the quarter began.
"We were talking about being up 15 and how at that point they were going to start throwing the ball more,'' Stille said. "That was really all our conversation, that we wanted them throwing the ball because that is not their strength. We had them right where we wanted them.''
7. Desmond King and Jaleel Johnson combined for nine tackles for the Texans in a loss to the Jets on Sunday, among the highlights of play by former Hawkeyes in the NFL over the Thanksgiving weekend.
Amani Hooker matched King's five tackles for the Titans in a loss to the Patriots, who had one tackle from Carl Davis.
Chauncey Golston had four tackles for the Cowboys in a win over the Raiders and Micah Hyde and A.J. Epenesa had two tackles piece for the Bills in a win over the Saints.
Elsewhere on defense, Geno Stone finished with two tackles and Kristian Welch had one for the Ravens in a win over the Browns, Anthony Nelson had one stop the Buccaneers in a win over the Colts and Nick Niemann finished with one tackle for the Chargers in a loss to the Broncos.
On offense, T.J. Hockenson had three receptions for 35 yards and a touchdown in the Lions' loss to the Bears, Noah Fant caught three passes for 12 yards for the Broncos in their win over the Chargers and George Kittle had one reception for 13 yards for the 49ers in their win over the Vikings.
8. Nebraska coach Scott Frost isn't sure how much Iowa's halftime switch at quarterback impacted Friday's outcome.
"(Spencer Petras) came in and played well and they won so maybe it was, but the blocked punt was the game,'' Frost said.
"When you have been in as many games like this, we just have to try to stop the negative momentum at that point. Then we missed one protection and gave up a safety. Defense had not given up any big runs all day and we gave up one at the wrong time. I am frustrated.''
9. Former Hawkeye Cam Harrell had a productive game Saturday for Southern Mississippi in its win over Florida International.
Harrell finished with four tackles and forced a fumble to highlight the work of former Iowa players competing elsewhere in college football.
Julius Brents and Cedric Boswell put up big tackle numbers in losing efforts.
Brents had eight tackles including one for a loss for Kansas State in its loss to Texas and Boswell recorded seven stops and intercepted a pass for Miami (Ohio) in its loss to Kent State.
Elsewhere on defense, Dillon Doyle had three tackles for Baylor in its win over Texas Tech.
On offense, Shadrick Byrd rank 13 times for 72 yards and caught one pass for Charlotte in a loss to Old Dominion while Samson Evans caught two passes and rushed eight times for Eastern Michigan in a loss to Central Michigan.
10. It will be shirtsleeve weather inside Lucas Oil Stadium on Saturday night, but the weather outside won't be so bad either.
The current National Weather Service forecast for Indianapolis on Saturday calls for sunny skies and high temperature of 46 degrees.