Rick Harris' vehicle barely made it up the Arsenal Bridge on April 30, 2019, as torrents of water shot through his taproom.
A temporary flood wall made of HESCO barriers failed, sending floodwaters rushing into several blocks of downtown and causing an estimated $30 million in lost revenue and damages.
Flat-bottom boats were dispatched to rescue the stranded.
"We were in the building," said Harris, who owns Bootleg Hill Honey Meads at 321 E. 2nd St. "Someone yelled, 'The barrier is going to break!' And it did. And we left the building. It was terrible. We barely got out."
He estimated it took three to four minutes for the area to flood.
"It's the worst thing you can ever imagine: A wall of water coming at you," Harris said. "We had to drill holes in the floors to pump out the water and equalize pressure."
After decades of Davenport spurning plans to build a flood wall — opting instead to embrace the river and rely on its levee of sand-filled HESCO barriers, removable flood walls and flood-friendly buildings, parks and marshes — Harris become one of the more outspoken voices calling for permanent flood protection and a structural solution in the wake of the historic flooding in 2019.
"I think we were lucky to get out with our lives," Harris said. "I am just amazed no one was killed."
'Permanent plan. Permanent solution.'
After a nearly two-year planning effort, Davenport aldermen will vote Tuesday to accept a final draft of a flood resiliency plan that calls for a mix of flood buyouts and above- and below-ground improvements to mitigate the effects of more frequent river flooding.
"I'm looking for a permanent plan. Permanent solution. Not temporary barriers … and it looks like they're doing it," Harris said.
The three-phase plan includes dozens of recommended projects to reduce the impact of river flooding along the city's 9 miles of riverfront. 
The proposed projects include: upgrading storm sewers and installing floodgates; elevating River Drive east and west of Mound Street; elevating parts of LeClaire Street north of the railroad past Third Street; building a mix of earthen berms and partially buried flood walls north of the railroad tracks from areas around the Arsenal Bridge west past Veterans Memorial Park; and replacing temporary city pumps with automated permanent pump stations.
"Permanent protection from floods, within reason. Real simple," Harris said. "I am excited to see we'll have a flood wall by us, albeit a short one, but it's better than nothing."
In west Davenport, recommendations include consolidating and reducing a large number of storm sewer outfalls and constructing standardized backflow prevention gates; repairing existing berms around the Garden Addition and adding an eastern closure; building a new detention basin to collect storm water runoff; and replacing the Credit Island causeway with a bridge.
The plan, which serves as a guide for future flood mitigation actions, also calls for the targeted purchase of flood-damaged properties and establishing a cost-share program between the city and building owners to flood-proof buildings.
"Floodplain property that will be situated behind the proposed structural flood risk mitigation projects will continue to have residual flood risk," according to environmental consulting firm HR Green, Inc. of Cedar Rapids. "This is a feature of the plan, not a flaw, balancing public and private investment in flood risk reduction."
The proposed structural measures would provide protection up to a flood stage of 22 feet, below the record 22.7-foot crest reached in 2019.
Protecting to a 22-foot flood stage would significantly improve access across the city and reduce flood risk and disruption to public infrastructure, businesses and residents, according to HR Green.
"Structural mitigation to stage 22 offers the city of Davenport a balanced, equitable and cost-effective solution that's rooted in the city's rich history of co-existing with the river," according to the report.
Since 1868, flooding in Davenport has surpassed a 22-foot crest four times — in 1965, 1993, 2001 and 2019.
While the risk of higher floods always remains, major flood impacts would be deferred to the very largest flood events, according to HR Green.
And the city retains the ability to deploy temporary flood fighting measures if needed, such as the use of HESCO barriers and sandbags, and build atop the proposed structures to protect to a higher elevation, Davenport Assistant Public Works Director Clay Merritt said. He noted the city's current flood response plan includes provisions for actions up to a flood stage of 26 feet.
"Some of this is some level of compromise; a balanced approach," Merritt said. "A wall or berm to (flood) stage 22 (feet) is approximately 5 feet above grade. In some areas it may be more. That's about a foot, plus or minus, over what the (recently elevated) railroad tracks currently are. ... You're really blocking (views of) the railroad ballast. You're blocking a black-coated chain-link fence."
And instead of a series of above-ground structures stretching roughly from LeClaire to Howell street, protecting to 24 feet would require further expansion, "because more and more water is coming around the back side."
"So now your wall not only got taller, it got significantly longer," Merritt said. "By going just two stages higher, you're incorporating a lot larger project." 
A multi-pronged plan
Alderman Kyle Gripp, at-large, stressed structural improvements is just one component of a multi-pronged plan focused on "retreating from the floodway and floodplain where it makes sense, flood-proof where you decide to stay and then flood fight where you need to."
Kyle Carter, executive director of the Downtown Davenport Partnership, an affiliate of the Quad Cities Chamber of Commerce, added: "Whether it's the 22-foot permanent infrastructure components or the deployment of HESCOS and other tactics, it's all ultimately a 9-mile flood mitigation system that can manage (a flood stage of) 23 to 26 feet, if built with that end in mind."
"To hit the 23- to 26-foot capacity, the city needs to ensure the permanent pump stations, gate-wells and storm sewer improvements are designed to manage that load," Carter said. "This is an element our organization has repeatedly said is a key priority. Building above-ground infrastructure that caps out at 22 (feet) is fine so long as the rest of the work is done to get the full system operational well above the 22-foot stage."
Projects would be phased over time and rely on annual capital-improvement funding by the city and on state and federal grants. The price tag is likely to exceed $165 million in total, according to estimates from HR Green.
An initial phase would focus on non-structural programs such as the acquisition of property in the floodplain and floodproofing cost-share programs, as well as structural upgrades to existing, mostly underground, infrastructure such as storm sewers and rehabilitation of flood berms around the Garden Addition.
Subsequent phases would likely focus on building a mix of berms and flood walls and raising roads along the riverfront, beginning at the Arsenal Bridge and working downstream, and constructing permanent pump stations.
Local developer Pete Stopulos, who has commercial and multi-family residential projects on East 2nd Street and West River Drive, among other investments in the downtown area, lauded the flood plan.
"I think they hit the nail on the head," Stopulos said. "It's a long time coming, obviously. We've been dealing with flooding problems in Davenport for more than century, since the city was founded. This seems to be the first time in memory the city put a plan together driven by engineering and science and hydrology, and weighing what those effects will be on both downtown and the city as a whole."
Asked about the level of flood mitigation provided by the plan, Stopulos responded, "You could build a flood wall to 26 feet, and odds are good you'll never have trouble with flooding again, but we know that's not realistic from a cost and quality of life perspective.
"The 22-foot mark should take care of the vast majority of any of our flood problems in Davenport," he continued. "It did a great job of protecting what needs to be protected and planning for the future, and at the same time prepare for any flooding events that may occur in the short term."
He applauded the plan's emphasis of first tackling work under ground to fix damaged and dated storm sewers that allow floodwaters to rise from below.
"The underground work is vitally important to keep streets open for throughput of traffic and keeping businesses open," Stopulos said. "In 2019, underground flooding was causing more problems than the over-ground flooding."
Stopulos said he was pleased to see a plan that "maintains and preserve what we value with our city and downtown — protect the best of the Mississippi River and protect from the worst."
"For a city to thrive, it all has to be integrated and we have to be concerned about all parts of our city and look at it from a holistic view," he said. "There's value in our riverfront so let's protect … the best parts of it while planning for future protection against the river."
He pointed to Cedar Rapids at its plans for a $750 million permanent flood control system.
"Cedar Rapids is the blueprint of being handed lemons and making lemonade out of it," Stopulos said. "The city of Cedar Rapids, you can argue, is better today than it ever has been, and part of that is the way they responded to the worst natural disaster in the city's history. We can take a page out of their book and accomplish the same things here in Davenport, albeit at a substantially lower cost."
A collection of all our photos, videos from the Flood of 2019
Ryan Lincoln maneuvers his jon boat through flood waters while taking volunteers to businesses on E 2nd St. in downtown Davenport Thursday, May 2.
The Mississippi River is expected to reach a record level of 22.7 feet Thursday, May 2, 2019.
Continuing flood coverage from across the region Wednesday May 1, 2019.
Members of the US Coast Guard from the Rock Island Arsenal deploy boats into flood water at the intersection of Pershing Ave and E 2nd St. Wed…
A fly over over the flooded areas in Davenport, Iowa and a view down at the intersection of Pershing Ave and River Drive where the HESCO barri…
This week the Mississippi River is expected to crest at almost 22.4 feet, just a few inches shy of the all-time record set in 1993.
Photos: Davenport Flooding
041420-qc-flood-update-1.JPG
041420-qc-flood-update-2.JPG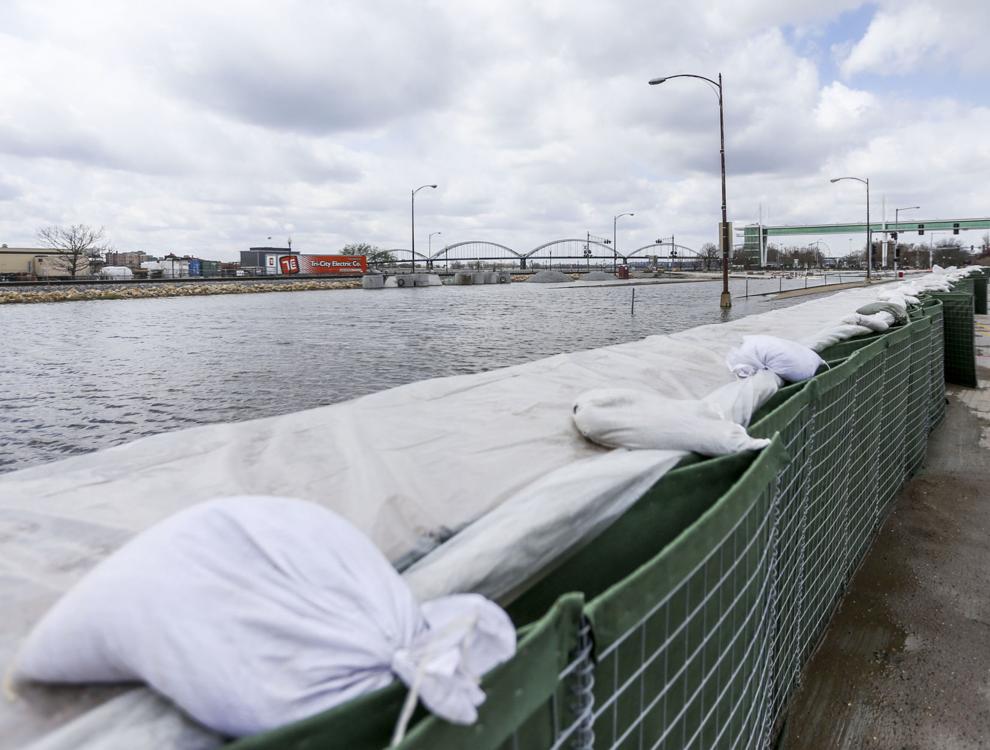 041420-qc-flood-update-3.JPG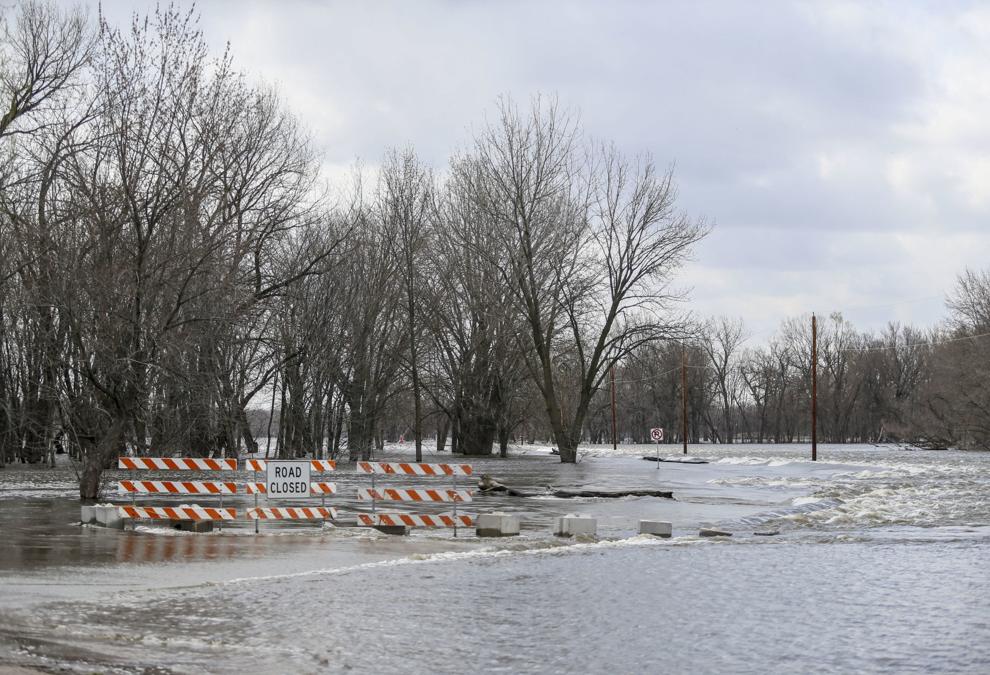 041420-qc-flood-update-4.JPG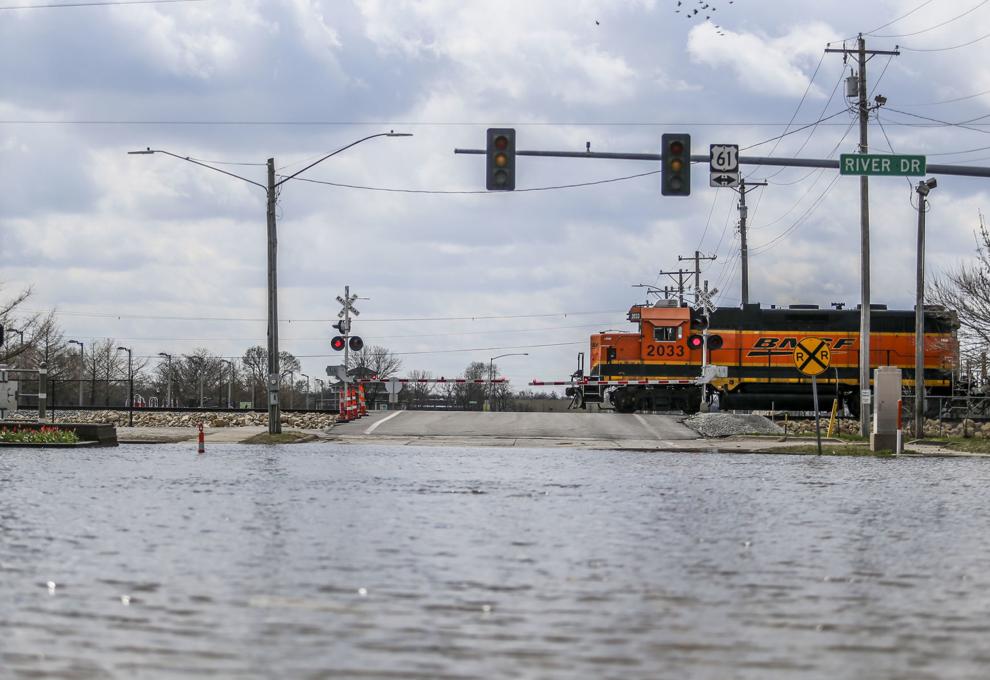 041420-qc-flood-update-5.JPG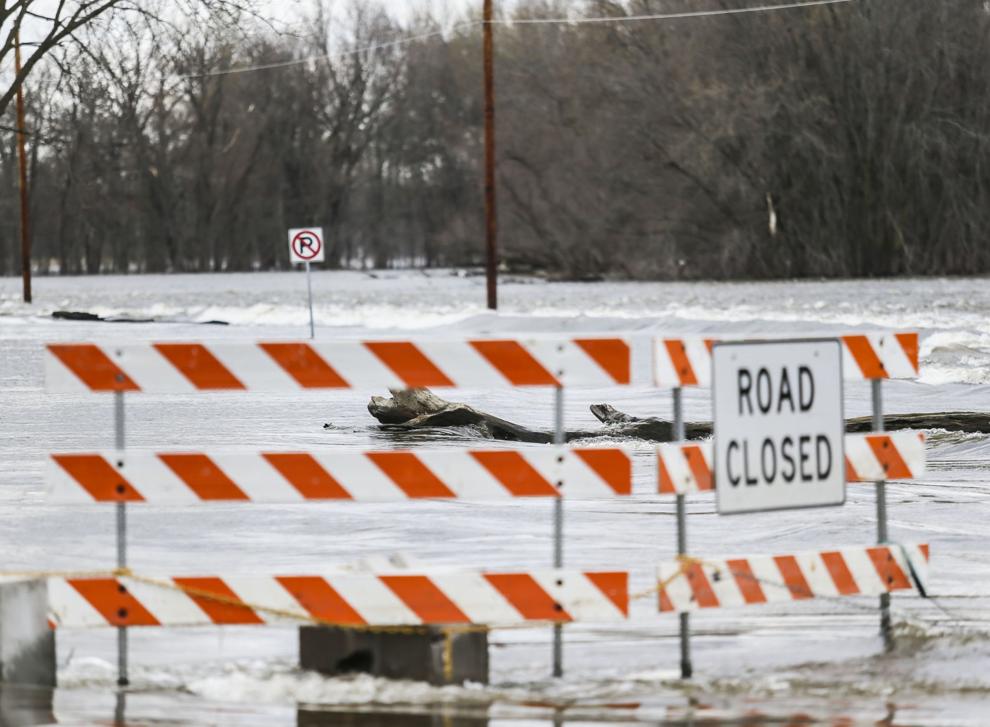 041420-qc-flood-update-6.JPG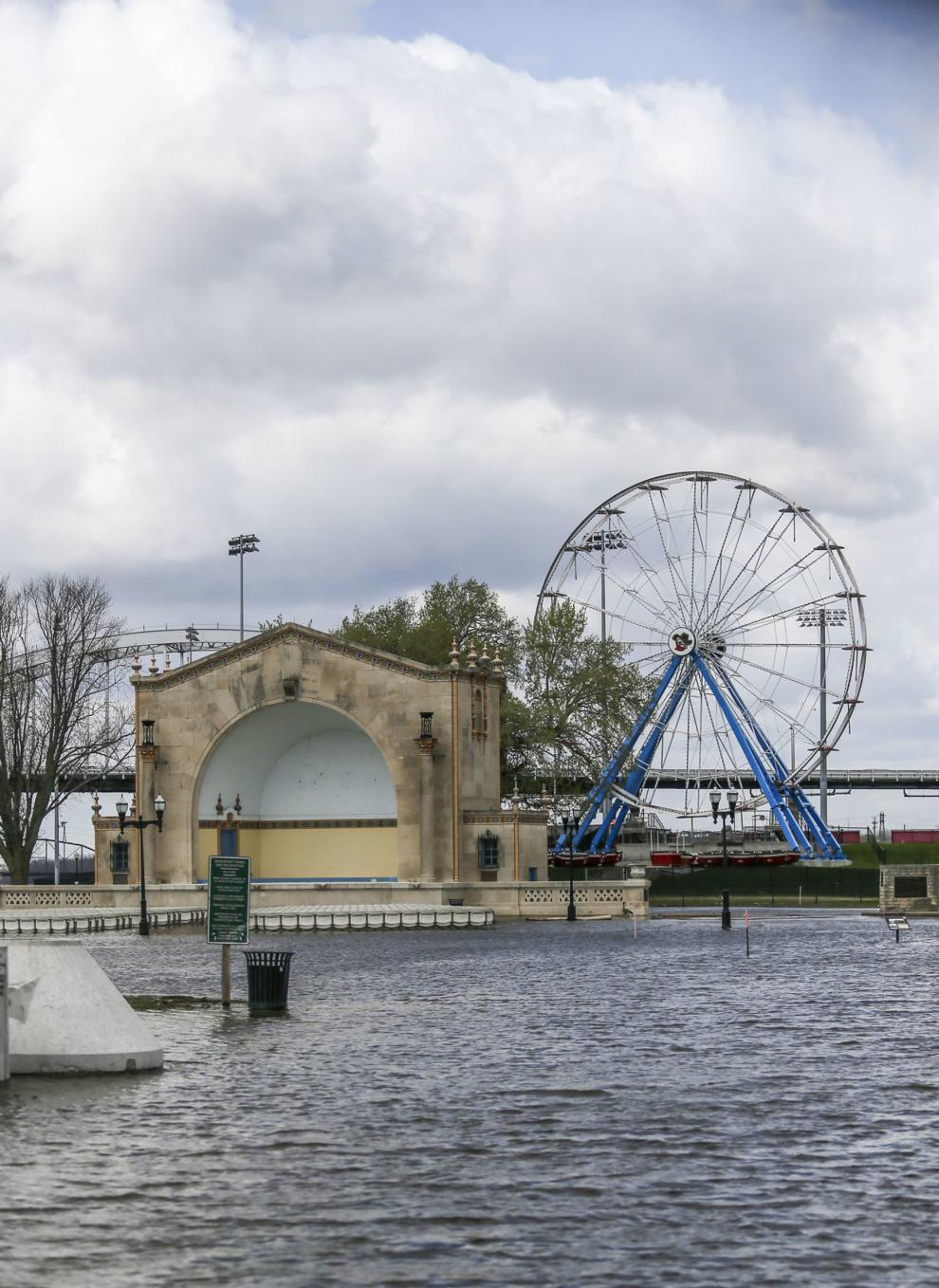 041420-qc-flood-update-7.JPG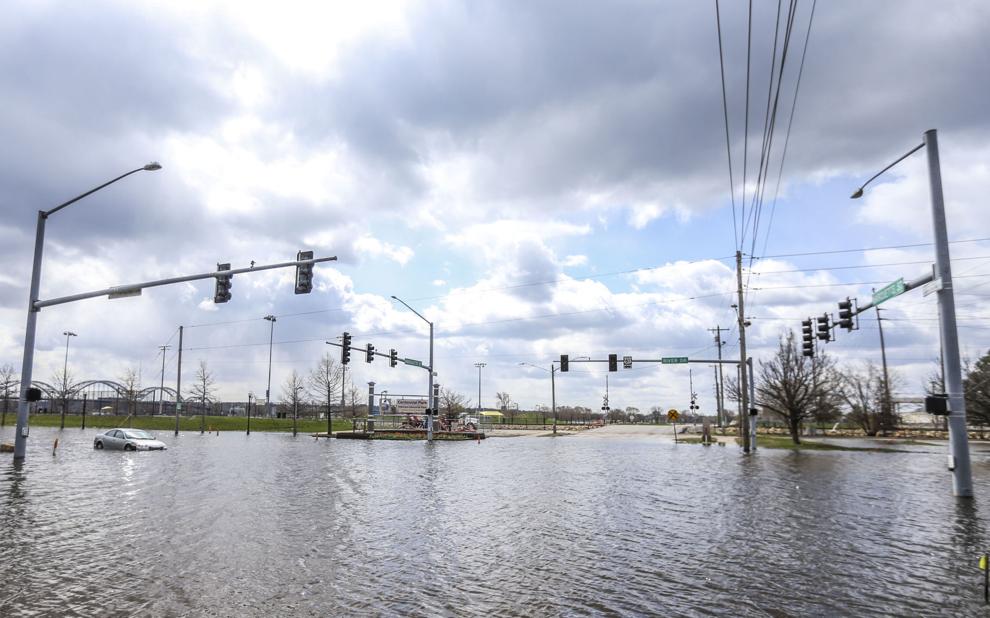 041420-qc-flood-update-8.JPG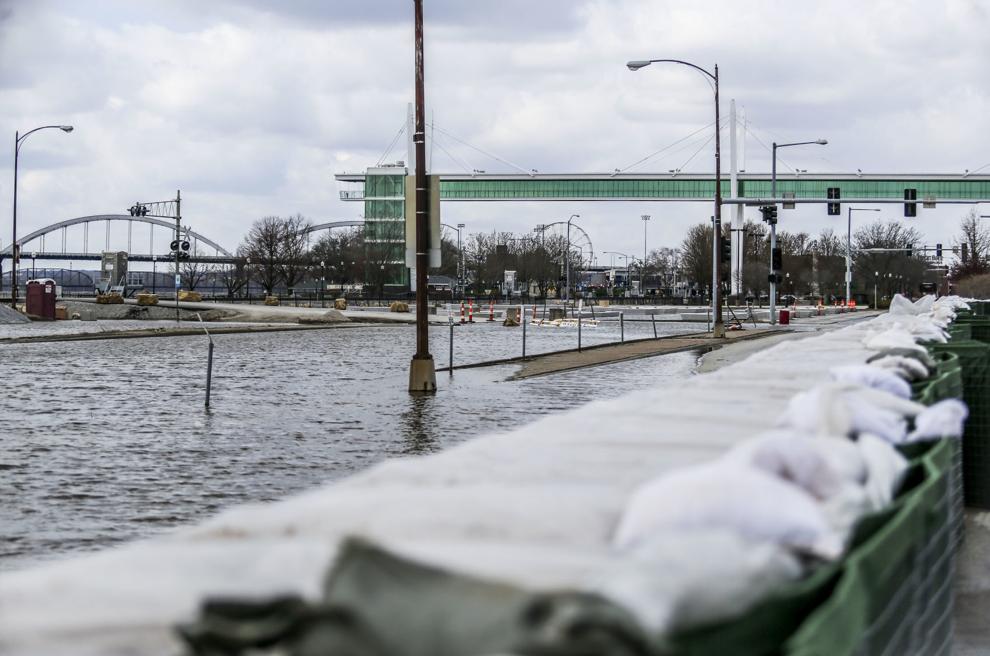 041420-qc-flood-update-9.JPG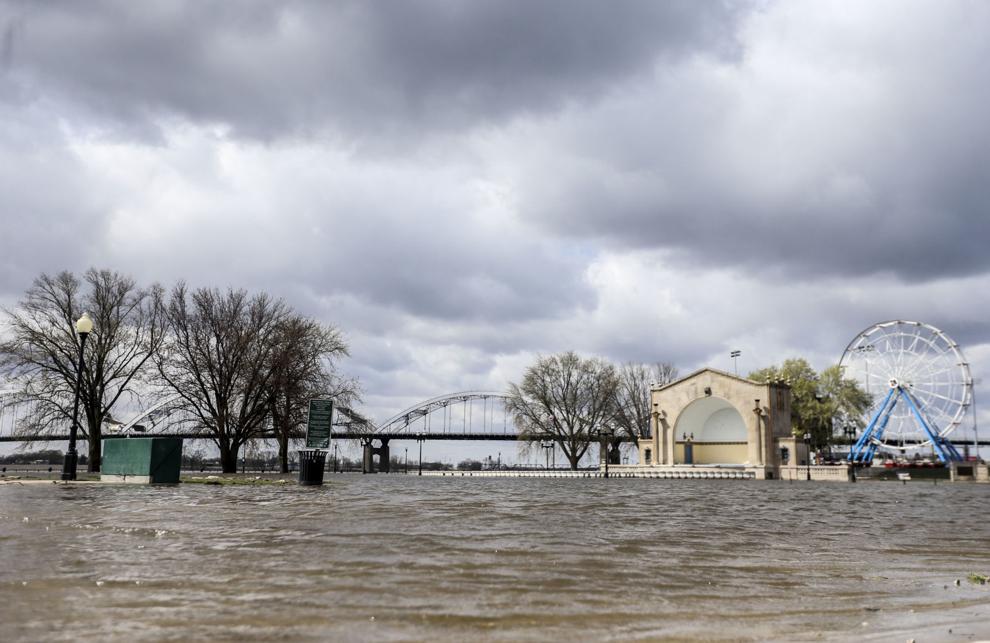 041420-qc-flood-update-10.JPG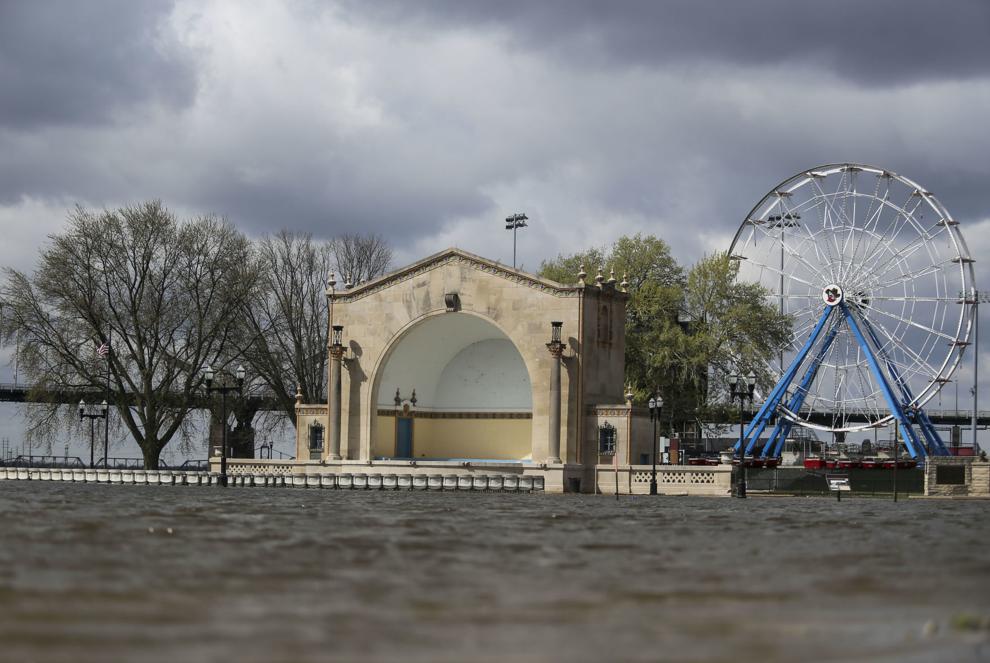 041420-qc-flood-update-11.JPG